Srikant Rathod – Trainer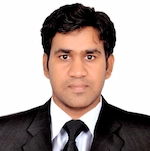 An M-tech graduate in VLSI Design and Embedded Systems & Bachelor of Engineering in Electronics and Communication, Mr. Srikant started his career as an Assistant Professor in one of the reputed engineering colleges, under the University of Pune, India. Srikant Rathod is passionate about teaching and his keen interest in Mathematics and Physics led him to impart his knowledge to students and work as a Trainer.
About Proper Choice Training Institute
Proper Choice Training Institute believes Education is the visa to the future; it is owned by those who lay the groundwork today. Our plan is to impart quality training to the students to bridge the gap between what they learn in schools or colleges and what is required for international standardized tests. Our passionate instructors cater to students in groups and individually channeling them in the right direction by facilitating and coaching them in a range of exam preparation courses with unique methodology.